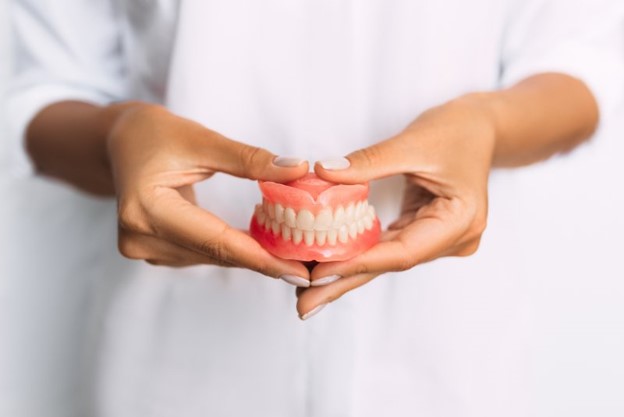 Your teeth are important; not only do they provide you with a dazzling smile, but they're also the best available tools for biting and chewing your food. That said, missing teeth can be a serious problem; in fact, the American College of Prosthodontics estimates that around 40 million adults are missing all of their teeth! Luckily, dentures offer an effective solution for replacing those lost pearly whites and allowing you to eat, speak, and smile normally once more. But even though they're meant to help you out, did you know that wearing dentures can actually negatively affect your body's nutrition? Keep reading to learn more about this connection and what you can do to ensure that your dentures don't give you any trouble when it's time to eat.
The Link Between Dentures & Chewing Force
Dentures are held in place with a special adhesive that matches the color of your gums. They obtain their structural support through their shape and how they rest against your jawbones. The better the fit, the better your dentures will function. The upper denture also relies on suction to stay in place, while the lower denture relies on muscle control. When they're properly situated, your dentures will effectively move and function just like your missing teeth. But since they're not naturally affixed to anything inside your mouth, sometimes problems can arise.
It's possible for the adhesive to fail, which can cause your dentures to become loose whenever you speak, chew, or simply move your jaw. This looseness is a big problem, because it means that you aren't able to apply as much chewing force as normal! In fact, dentures only give you around 20 to 25% of your original bite force. This means that you're severely limited in your ability to bite, chew, and grind certain foods.
How Chewing Force Impacts Your Nutrition
Chewing is technically the first step of the digestive process, so if you're not able to chew your food thoroughly, you're already not off to a great start. Your saliva contains powerful digestive enzymes that play a large role in digestion, and your teeth also help to crush food into smaller particles that are easier for your stomach acids to break down. Swallowing larger particles isn't just a choking hazard; your body can't extract as much nutrition from them! This can lead to malnutrition in some cases, meaning that dentures can actually negatively impact your nutrition through the reduction of your chewing force.
Implant-Supported Dentures Can Help
Fortunately, implant-supported dentures can directly counter this reduction and restore a significant amount of power to your chewing force! The implants provide a strong interlocking connection between your jaws and your dentures that increases the amount of foundational support. This means that your dentures don't have to rely on adhesives, suction, or muscle control to remain stable and in their correct positions. You'll be back to fully chewing your food again in no time at all!
Even though they're meant to help, dentures can unfortunately cause you harm by reducing your chewing power and in turn, your body's ability to absorb nutrients! Talk with your dentist if you're curious about implant-supported dentures and how they can help you get back to eating normally again.
About the Author
Dr. Stephen Dean has proudly served patients and families in the Covington, GA area for several years. Dr. Dean received his dental doctorate from the Medical University of South Carolina and is a member of several professional organizations including the American Dental Association and the prestigious Academy of General Dentistry. His practice is pleased to offer many available services including dentures. If you have any questions about dentures or would like to schedule a visit, feel free to contact Dr. Dean's practice online or over the phone: (770) 786-3915.