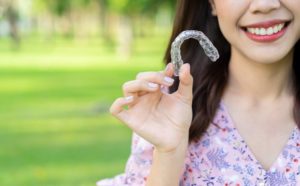 Clear aligners are a revolutionary treatment and are quickly becoming the most popular way to address orthodontic issues. Not only are they removable and generally more comfortable than traditional metal braces, but they're virtually invisible when worn! No more feeling embarrassed about shiny metal wires and brackets distracting from your appearance during treatment. However, it's important to remember that your aligners will only stay clear as long as you take care of them. Here are four easy and practical tips for taking care of your clear aligners in Covington.
Take Your Aligners Out Before Eating or Drinking
It's ok to drink plain water while wearing your clear aligners, but that's it! Your aligners can easily become stained if they come in contact with any foods or drinks. In fact, they could even become damaged! Hot beverages like coffee or tea could warp the plastic and cause them to no longer fit properly. Pressure from chewing even relatively soft foods could be enough to crack or break your aligners. To keep your aligners safe and spotless, make sure you're diligent about always removing your aligners before eating or drinking anything.
Clean Your Teeth Before Putting Your Aligners In
If removing your aligners before eating or drinking is step one, then step two is to make sure your teeth are clear before you put your aligners back in your mouth. Otherwise, you'll trap food particles and sugars between your aligners and teeth. This can attract bacteria, which can lead to bad breath, cavities, gum disease, and discolored aligners. Make it a habit to carry travel-sized floss and a toothbrush with you at all times during your treatment to keep your smile healthy and gleaming.
Keep Your Aligners Clean with Daily Habits
It's not enough to just keep your teeth clean! Your clear aligners themselves also need to be sanitized to keep them clear and free of oral bacteria. You should rinse off your aligners at least twice a day, being sure to avoid hot water (which could alter their shape. Additionally, you could soak them in a dentist-recommended cleaning solution for a few minutes every day to thoroughly clear them. Adding this step to your normal daily oral hygiene routine can make it much easier to remember!
Store Your Aligners Properly
Letting your aligners sit out on the table, counter, or other area where they're exposed to the open air put them at a higher risk of getting dirty and collecting bacteria. That's why you should make sure to store your aligners in their dedicated case whenever you remove them. This simple step will go a long way in keeping your aligners safe from outside particles. It will also help protect them from being forgotten or thrown out! If you do end up accidentally leaving your aligners out in the open for a while, make sure you thoroughly clean them before you put them back in your mouth.
About the Practice
Dr. Stephen Dean and his talented team here at Dean Dental Care are passionate about helping patients in Covington and the surrounding communities achieve happy, healthy, and beautiful smiles. Dr. Dean regularly completes continuing education in a variety of topics, allowing his to offer the most modern and effective treatments, like clear aligners! If you'd like to learn more about clear aligner treatment or how to take care of your trays, he can be reached online or at (770) 786-3915.