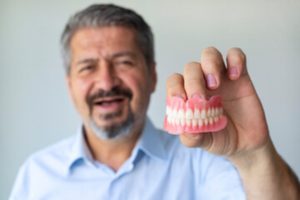 Dentures are one of the most effective ways of replacing missing teeth, capable of replacing just a few or an entire row of lost pearly whites. That said, dentures can only fulfill their purpose if they're cared for properly—and that care falls on you! Here are a few useful tips from your dentist for keeping your dentures clean and in optimal shape for serving your smile well.
1. Remove & Rinse Your Dentures After Eating
Any time after you eat, you should remove your dentures and rinse them off. Run water over your dentures to remove food debris and other loose particles—this does a lot for your dentures and helps them to remain sanitary. You may want to place a towel on the counter or fill the sink with water, so that your dentures don't break if you accidentally drop them.
2. Handle Your Dentures Carefully
Whenever you're handling your dentures, you want to be sure that you're careful. Don't bend or damage the plastic or the clasps when cleaning them and be extra careful to never drop your dentures; they likely won't survive a fall onto a hard surface!
3. Clean Your Mouth After Removing Your Dentures
Use a soft-bristled toothbrush on natural teeth and gauze or a soft toothbrush to clean your tongue, cheeks, and the roof of your mouth. If used, remove any remaining denture adhesive from your gums. Keeping the rest of your mouth clean is just as important as maintaining your dentures.
4. Brush Your Dentures Daily
Remove and gently clean your dentures every day—they will quickly become dirty and acquire a foul taste if you do not. Soak and brush them with a soft-bristled brush and nonabrasive denture cleanser to remove food particles, plaque, and other deposits. If you use denture adhesive to secure your dentures, try to clean the grooves that fit against your gums to remove any remaining adhesive. Don't use denture cleansers inside your mouth!
5. Soak Your Dentures Overnight
Most types of dentures need to stay moist to keep their optimal shape—and ill-fitting dentures are quite problematic! Place the dentures in water or a mild denture-soaking solution overnight. Check with your dentist about properly storing your dentures overnight and follow any specific manufacturer instructions on cleaning and soaking solutions.
6. Schedule Regular Dental Checkups
Whether you have dentures or not, you should regularly visit your dentist for preventive care; this also allows your dentures to be examined and professionally cleaned. Your dentist can help ensure a proper fit to prevent slippage and discomfort, and also check the inside of your mouth to make sure it's healthy.
Unfortunately, your dentures won't last forever; but that doesn't mean that you should neglect caring for them! Following these tips will help them to remain enduring and bright for the foreseeable future.
About the Author
Dr. Stephen Dean received his dental doctorate from the Medical University of South Carolina and is a proud member of several professional organizations including the American Dental Association and the Academy of General Dentistry. His practice is pleased to offer a wide range of services including restorative options like dentures. If you have any questions about how to care for your dentures or would like to arrange a visit, you can contact Dr. Dean's practice online or over the phone for assistance: (770) 786-3915.