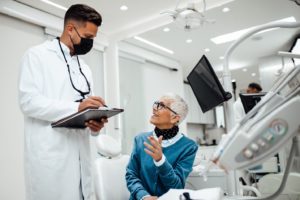 When it comes to replacing missing teeth, dental implants are considered the premier solution. Upon receiving them, the look, feel, and functionality of a patient's smile is fully restored, and their quality of life is noticeably improved. That said, the first step towards getting dental implants is visiting your dentist for a consultation—it is a surgical procedure, after all! Here are five important questions that you should ask during this appointment so that you can feel informed and comfortable about the dental implant process.
"Am I a Good Candidate for Dental Implants?"
It's important to note that not everyone is immediately a good candidate for dental implants. A patient's oral health is the single largest factor in determining dental implant eligibility; it is important to start the process with healthy gums and teeth, as well as sufficient jawbone density. In some cases, patients will need additional preparatory procedures such as a dental bone graft, gum disease treatment, a tooth extraction, or more. Your dentist will need to perform a thorough inspection of your mouth, often including X-rays, to determine if you're a good candidate for dental implants.
"How Long Does the Process Take?"
The overall length of the dental implant process depends on a few factors, but the main one is the number of implants being placed. It can sometimes take up to one hour to place each implant, meaning that if you have several teeth being replaced, you might need to schedule multiple visits. Of course, after the lengthy osseointegration process (in which the posts fuse with your jawbone), the crown portions of the implants will need to be attached to the posts.
"What Does the Recovery Period Look Like?"
Osseointegration is the single-most important part of the implant recovery process; if your implants cannot healthily fuse with your jawbone, they will ultimately fail! That said, the recovery period for osseointegration is typically a few months; but once that process has wrapped up and you've received the rest of your implants, you can expect to be sore for a few days as you work towards resuming normal activities.
"How Much Will the Procedure Cost?"
Generally speaking, dental implants usually have a higher upfront cost than other restorative options like dentures or bridges. This cost can increase even more if you're receiving multiple implants. That said, it's important to explore financing solutions or payment plans since implants are a more costly restorative solution.
"What Can I Do to Make My Implants Last?"
Fortunately, dental implants are quite durable; patients can expect to enjoy them for 20+ years with proper care! That said, your dentist can provide you with detailed instructions for how to properly care for your dental implants. It's important to practice regular oral hygiene once you've received implants—they don't exempt you from brushing and flossing daily!
Your dental implant consultation is meant to inform you about the procedure and ensure that you feel comfortable about receiving implants. That said, don't hesitate to ask your dentist these questions during your visit so that you can go into the process with confidence and excitement.
About the Author
The team at Dean Dental Care is honored to serve patients and families in the Covington area under the leadership of Dr. Stephen Dean. Dr. Dean received his dental doctorate from the Medical University of South Carolina and is a proud member of several professional organizations including the American Dental Association and the Academy of General Dentistry. His practice is pleased to offer dental implants. To schedule a dental implant consultation, feel free to contact Dr. Dean through his practice's website or over the phone: (770) 786-3915.