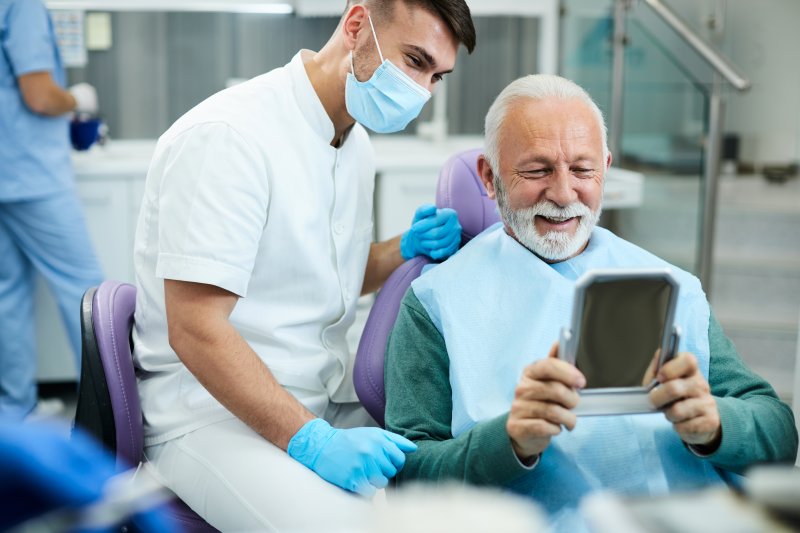 Do you have missing teeth? If so, you are not alone. According to the Centers of Disease Control and Prevention (CDC), by age 50, most Americans have lost an average of 12 teeth. Fortunately, modern times have provided multiple tooth loss solutions, like partial dentures and dental bridges. But which one is best for you? Your dentist in Covington is here to tell you about the differences and explore which option may be best for you.
What Are Partial Dentures?
A partial denture is a removable prosthetic that has one or more false teeth on it. They differ from full dentures because they are only meant to replace specific teeth instead of an entire arch. The artificial teeth are attached to a gum-colored base and a metal framework. Via metal hooks, partial dentures wrap around existing teeth to stay in place, acting like a puzzle piece in your mouth to complete your smile.
Partial dentures offer stability and convenience. They prevent neighboring teeth from shifting out of place and their removability allows for easy cleaning. In general, they typically last between five and ten years before needing a replacement.
What Are Dental Bridges?
A dental bridge is a restoration that is used to replace one or more teeth in a row; it "bridges" the gap between your existing teeth. Custom-made crowns are strung together and the ones at the end of the restoration are placed over the natural teeth at each end of the empty space in your mouth. It is securely bonded by dental cement. In some cases, a bridge can be secured onto dental implants that are placed in your jawbone instead of your remaining teeth.
Dental bridges are incredibly natural looking and also provide a durable smile! They can last from ten to fifteen years; in some cases, they can last a lifetime with excellent oral health habits.
Which One is the Best Choice for You?
This will be contingent on how many teeth you are missing and if they are consecutive or not. If you have only a few consecutive teeth missing, a dental bridge may be the best option for you. If you have many teeth missing in a row on one arch, a partial denture could possibly be the best choice. Ultimately, a consultation with your dentist will help determine the treatment that is suited for you. They will evaluate your dental health, including your remaining teeth. Based on their findings, a personalized plan will be made for you.
With the help of your dentist and this information, you can choose the best tooth replacement option so you can return to your complete, happy smile as soon as possible!
About the Author
Dr. Stephen Dean serves the families of Covington and the surrounding areas. He received his doctorate at the Medical University of South Carolina and has completed many hours of continuing education, including courses at prestigious institutions like the Dawson Academy and the Pankey Institute. With the goal of helping you accomplish your smile goals, he offers a wide range of tooth loss solutions, including partial dentures and implant-retained prosthetics. If you would like to learn more about how to complete your pearly whites, contact him through his website or call (470) 441-8475.